WANT TO ANNOUNCE A STEELERS DRAFT PICK?
WANT TO ANNOUNCE A STEELERS DRAFT PICK?

Presented by: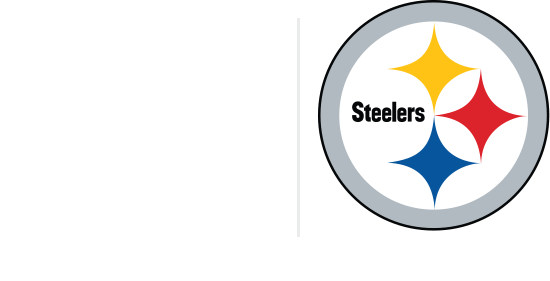 ENTER TO WIN THE CHANCE TO ANNOUNCE A STEELERS 2020 DRAFT PICK
NO PURCHASE NECESSARY. ENDS 12/31/19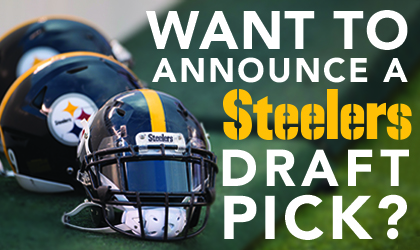 Securing the Future Sweepstakes
Presented by Guardian Protection
Proud Partner of the Pittsburgh Steelers
The Grand Prize
Enter today for a once-in-a-lifetime chance to announce a Steelers 2020 draft pick on stage at the official Steelers Draft Day event at Heinz Field. You'll be a part of the action as the Steelers celebrate the coming year and you'll also win an autographed helmet from the future star player you announced!

That's not all - take a look at these other prizes!
Additional Prizes
5 Entrants Will Receive: Autographed Swag! You could win an autographed football, helmet or jersey!
Securing the Future
Just like the Steelers protect the future of the team with the smartest draft picks, Guardian Protection helps protect your home or business with smart security options that fit your needs.
Pittsburgh's Trusted Smart Home Security
Pittsburgh's Trusted Smart Home Security

24/7 Monitoring
Responds to burglary, fire and medical alarms 24 hours a day, 7 days a week.

Smart Home Security
Manage your home from your smartphone for one-click convenience.

Video Surveillance
Get instant visual access, alerts and video clips right to your mobile device.
OFFICIAL SWEEPSTAKES RULES
1. NO PURCHASE OR PAYMENT NECESSARY TO ENTER OR WIN. The Sweepstakes is subject to all Federal, State, Local and Municipal laws and regulations. Void where prohibited by law. A purchase or payment of any kind will not increase your chances of winning.

2. SPONSOR / ADMINISTRATOR: The Sweepstakes is sponsored by Guardian Protection, Inc., 174 Thorn Hill Road, Warrendale, PA 15086 (the "Sponsor"). The Sweepstakes will be administered by Guardian Protection, Inc., 174 Thorn Hill Road, Warrendale, PA 15086, (the "Sweepstakes Administrator").

3. ELIGIBILITY: The Sweepstakes is open only to legal residents of the counties of Allegheny, Armstrong, Beaver, Bedford, Blair, Butler, Cambria, Centre, Clarion, Clearfield, Elk, Fayette, Greene, Huntingdon, Indiana, Lawrence, Mercer, Somerset, Venango, Washington and Westmoreland in Pennsylvania, Belmont, Columbiana, Jefferson, Monroe, and Washington in Ohio, Brooke, Harrison, Lewis, Marion, Marshall, Monongalia, Ohio, Pleasants, Preston, Randolph, Taylor, Tyler, Upshur, Wetzel and Wood in West Virginia and Allegany and Garrett in Maryland who are eighteen (18) years of age or older at time of entry. The Sweepstakes is not open to employees, directors and officers, including their immediate families (spouses and siblings, parents and children and their spouses) of the Sponsor or the Sweepstakes Administrator or of the Sponsor's or the Sweepstakes Administrator's respective parent companies, affiliates, subsidiaries, and advertising or promotional agencies, or legal advisors as well as any other marketing/communications agency, media companies, Pittsburgh Steelers LLC and their respective parent companies, subsidiaries and affiliates and companies involved in the implementation and execution of this Sweepstakes. All winners are subject to the Sponsor's and Sweepstakes Administrator's verification of eligibility hereunder.

4. ENTRY PERIOD: The Sweepstakes entry period will begin at 12:01 a.m. (ET) on August 4th, 2019 and end at 11:59:59 p.m. (ET) on December 31, 2019 (the "Entry Period"). Entries received outside of the Entry Period will be disqualified.

5. HOW TO ENTER: Participants can enter via the web. Entry Limitations: Maximum of one (1) entry per submission per household during the Entry Period. To enter without purchase or obligation, you may enter the Sweepstakes by visiting http://guardianprotection.com/steelers (the "Website") during the Entry Period, fill out the necessary information and submit as directed ("Web Registration"). ALL WEB REGISTRATIONS MUST BE SUBMITTED BY THE EXPIRATION OF THE ENTRY PERIOD. Entrants are responsible for all charges imposed by their internet service/provider, including any applicable taxes on such services, in connection with submission of registration. Multiple participants are not permitted to share the same email address. Entrants must fully complete and submit all non-optional data requested on the online entry form to be eligible. Incomplete entries are void. Any attempt by any participant to obtain more than the stated number of entries by using multiple/different email addresses, identities, registrations and logins, or any other methods will void all of that participant's entries and that participant may be disqualified. Entries that are mechanically reproduced, copied, illegible, incomplete, or inaccurate and entries by any other means which subvert the entry process are void. Incomplete entries or entries not complying in full with these Official Sweepstakes Rules are subject to disqualification, at the Sweepstakes Administrator's sole discretion. Neither the Sponsor nor the Sweepstakes Administrator is responsible for lost or misdirected entries.
ALL OTHER ENTRIES ARE NULL AND VOID.
All entries become the property of the Sweepstakes Administrator and none will be acknowledged or returned.
BY PROVIDING CONTACT INFORMATION, ENTRANTS CONSENT TO THE COLLECTION AND STORAGE OF THE INFORMATION PROVIDED. UNLESS THEY ELECT TO OPT-OUT, ENTRANTS TO THE SWEEPSTAKES MAY RECEIVE MARKETING AND OTHER INFORMATION FROM SPONSOR AND ITS AFFILIATED PARTIES AND CONTRACTORS; HOWEVER, ELIGIBILITY TO PARTICIPATE IN THE SWEEPSTAKES IS NOT DEPENDENT UPON ENTRANT'S CONSENT TO RECEIVE SUCH MARKETING AND OTHER INFORMATION; AND YOUR CHANCES OF WINNING ARE NOT AFFECTED BY SUCH CONSENT. BY PROVIDING CONTACT INFORMATION AND NOT ELECTING TO OPT OUT, ENTRANTS CONSENT TO BEING CONTACTED BY SPONSOR AND ITS AFFILIATED PARTIES AND CONTRACTORS. CONTACT METHODS MAY INCLUDE MAILINGS, EMAILS AND TELEPHONE CALLS (INCLUDING THOSE GENERATED FROM AN AUTOMATED TELEPHONE DIALING SYSTEM) AT THE TELEPHONE NUMBER PROVIDED, INCLUDING ANY WIRELESS TELEPHONE NUMBER PROVIDED. SPONSOR'S FULL PRIVACY POLICY IS AVAILABLE AT HTTPS://GUARDIANPROTECTION.COM/PRIVACY-POLICY.ASPX.

6. PRIZES & ODDS OF WINNING: Prizes consist of one (1) grand prize to announce a draft pick live at the official 2020 Steelers draft event (official name to be announced at a later date) taking place at Heinz Field (100 Art Rooney Avenue, Pittsburgh, PA 15212) in April 2020 and a Pittsburgh Steelers helmet autographed by the draft pick who the winner announces, and five (5) second place prizes consisting of one (1) of the following: 1) an autographed football (three (3) winners), 2) an autographed helmet (one (1) winner), or (3) an autographed jersey (one (1) winner). Odds of winning are dependent upon the number of eligible entries received. Maximum of one (1) prize per eligible entry. The approximate retail value of: the grand prize is $515.00; each autographed football is $200.00; the separately-awarded autographed helmet is $500.00; the autographed jersey is $500.00. Any difference between the stated values here and the actual face or market values of the prizes will not be awarded or paid.

7. DRAWINGS: Winners will be selected in random drawings conducted by employees of the Sweepstakes Administrator within one (1) week after the close of the entry period described above. Three attempts will be made to contact the winner. Winners will be contacted phone and are subject to verification of eligibility. Grand prize winner will be required to travel to Heinz Field (the "Stadium") at his/her own expense and be willing to participate in the 2020 Steelers draft event at Heinz Field.
It is Sponsor's intent that all prizes will be awarded. In the event that a potential winner of a prize is disqualified for any reason, Sponsor intends to redraw for unawarded prizes; provided, however in the event one or more prizes remain unawarded after multiple redrawings, Sponsor may, at its sole discretion, elect to discontinue further redrawings, leaving those unawarded prizes unclaimed. Prizes are non-assignable and nontransferable and winners cannot accept only part of an awarded prize. The winner is solely responsible for payment of all expenses (except those specified as being the Sponsor's responsibility under these Official Sweepstakes Rules) and all taxes pertaining to a prize. No cash or other substitution may be made, except by Sponsor, who reserves the right to substitute the prize in whole or in part with another prize of comparable or greater value if the intended prize is not available for any reason as determined by the Sponsor in its sole discretion.
Winners drawn for prizes are thereafter ineligible for subsequent prizes and their entries (regardless of whether the winner actually claims his or her prize) will be disqualified and removed from subsequent drawings. A winner will be required to claim his or her prize by completing, signing, and notarizing an affidavit of eligibility, a liability release form, and, except where prohibited by law, a publicity release, which must be returned via mail within thirty (30) business days of notification postmark. In the event of non-compliance with this time period, the winner identified by drawing will be disqualified and an alternate winner will be selected, with no further compensation for the disqualified entrant(s). If a notification of prize award is returned to the Sweepstakes Administrator as undeliverable, the prize will be awarded to an alternate winner, with no further compensation for the disqualified entrant(s).
Winners may waive the right to receive a prize. The return of any prize or prize notification as undeliverable will result in disqualification, the forfeiture of all interest in the prize. Unless prohibited by law, acceptance of a prize constitutes permission for the Sponsor, Sweepstakes Administrator, and their respective affiliated parties and contractors to use the winner's name, address (city and state), and/or likeness for internal and public announcements, advertising and trade purposes without further compensation, worldwide and in perpetuity, in any and all forms of media, now known and hereafter devised, including, without limitation, the Internet.

8. GENERAL CONDITIONS: By entering, participants agree to be bound by these Official Sweepstakes Rules and by the decisions of the Sponsor, the Sweepstakes Administrator, and Sweepstakes officials and judges, if any, appointed by the Sweepstakes Administrator, which decisions shall be final and binding in all respects. The Sweepstakes Administrator reserves the right, in its sole discretion, to disqualify any individual it finds to be tampering with the entry process or the operation of the Sweepstakes or to be acting in violation of these Official Sweepstakes Rules or engaging in an un-sportsmanlike or disruptive manner. Any person attempting to defraud or in any way tamper with this Sweepstakes will be ineligible for prizes and may be prosecuted to the full extent of the law. In the event that any tampering, fraud, technical error or failure, unauthorized intervention, or other problem which corrupts, impairs, or affects the administration, security, fairness, or integrity of the online portion of the Sweepstakes, or for any other reason the Sweepstakes Administrator deems it necessary, the Sweepstakes Administrator may, at its sole discretion, cancel, terminate, modify, or suspend the Sweepstakes and award any remaining prizes at random among all eligible entries received up to the time of impairment. Should the Sweepstakes be cancelled or altered prior to the stated expiration date, notice will be posted at http://guardianprotection.com/steelers.
CAUTION: ANY ATTEMPT TO DELIBERATELY DAMAGE ANY WEB SITE ASSOCIATED WITH THE SWEEPSTAKES OR UNDERMINE THE LEGITIMATE OPERATION OF THE SWEEPSTAKES IS A VIOLATION OF CRIMINAL AND CIVIL LAWS AND SHOULD SUCH AN ATTEMPT BE MADE, THE SPONSOR AND/OR THE SWEEPSTAKES ADMINISTRATOR RESERVES THE RIGHT TO PROSECUTE AND SEEK DAMAGES OR OTHER REMEDIES FROM ANY SUCH PERSON(S) RESPONSIBLE FOR ANY SUCH ATTEMPT TO THE FULLEST EXTENT PERMITTED BY LAW.

9. DISCLAIMERS: By entering, participants acknowledge and agree that the Sponsor, the Sweepstakes Administrator, the Pittsburgh Steelers, the NFL and their respective parents, subsidiaries, affiliates, franchisees, advertising and promotional agencies, and the officers, directors, employees, players, agents, and representatives of each of the foregoing entities (collectively, the "Sweepstakes Entities"), will not be liable for losses or injuries of any kind resulting from acceptance/possession/use and/or misuse of prize(s), participation in the Sweepstakes, printing, mailing, or distribution errors, or any malfunctions of the computer Internet system, computer dating mechanism, computer equipment, software, or any combination thereof, unauthorized human intervention in the Sweepstakes, errors in the administration of the Sweepstakes or the processing of entries, or any entries that are late (including misdirected or lost and/or delayed data transmissions), tampered with, garbled, incomplete, or otherwise not in compliance with these Official Sweepstakes Rules. The Sweepstakes Entities are not responsible or liable for any injury or damage to any participant's or third person's computer and/or its contents, related to or resulting from the Sweepstakes. Participants release and agree to hold harmless the Sweepstakes Entities from any and all liability from any of the claims described above.
The Sweepstakes Entities are not responsible for late, lost, illegible, redirected, misdirected, stolen, undelivered, or separated entries or prize notifications, and the Sweepstakes Entities assume no responsibility for any error, omission, interruption, deletion, defect, delay in operation or transmission, communications line failure, theft, destruction, or unauthorized access to their respective web sites. The Sweepstakes Entities are not responsible for any problems or technical malfunctions of any telecommunications network or telecommunications lines, computer on-line systems, servers, computer equipment, telecommunications network equipment, software, failure of any e-mail or entry to be received by the Sweepstakes Administrator on account of technical problems, human error, traffic congestion on the Internet or on any web site, or any combination thereof.
IN NO EVENT WILL ANY SWEEPSTAKES ENTITY BE RESPONSIBLE OR LIABLE FOR ANY DAMAGES OR LOSSES OF ANY KIND, INCLUDING DIRECT, INDIRECT, INCIDENTAL, CONSEQUENTIAL, OR PUNITIVE DAMAGES ARISING OUT OF OR RELATED TO A PARTICIPANT'S ENTRY IN, AND PARTICIPATION IN, THE SWEEPSTAKES OR THE DOWNLOADING AND/OR PRINTING OF MATERIAL ASSOCIATED WITH THE SWEEPSTAKES. WITHOUT LIMITING THE FOREGOING, EVERYTHING ON THE SWEEPSTAKES ENTITIES' WEBSITES AND IN THIS PROMOTION IS PROVIDED "AS IS" WITHOUT WARRANTY OF ANY KIND, EITHER EXPRESS OR IMPLIED, INCLUDING, BUT NOT LIMITED TO, THE IMPLIED WARRANTIES OF MERCHANTABILITY, FITNESS FOR A PARTICULAR PURPOSE, OR NON-INFRINGEMENT. SOME JURISDICTIONS MAY NOT ALLOW THE LIMITATIONS OR EXCLUSION OF LIABILITY FOR INCIDENTAL OR CONSEQUENTIAL DAMAGES OR EXCLUSION OF IMPLIED WARRANTIES, SO SOME OF THE ABOVE LIMITATIONS OR EXCLUSIONS MAY NOT APPLY TO ALL PARTICIPANTS.

10. SWEEPSTAKES WINNERS' LIST: For the names and hometowns of Prize winners (to the extent permitted by applicable law), and/or a copy of these Official Sweepstakes Rules, send a self-addressed, stamped, business-size envelope to the Sweepstakes Administrator at: Guardian Protection, Inc., 174 Thorn Hill Road, Warrendale, PA 1508666 Attn: Marketing Department. Indicate whether you are requesting the winners list or a copy of Official Sweepstakes Rules or any combination of the foregoing.

AL 2019/20-823, 2019/20-1784; AR CMPY.0001511; AZ ROC208756, 18259-0; CA ACO 6484; DC 602518000003, ECS900301, DMS904597; DE FAL0197, 95-73, 1995110043; FL EF20001449; GA LVU406727; IL 127.001224; IN LAC000028; KY 145654, 144; MD MHIC No. 134919 (888) 218-5925, 107-2224, 15351392; MI 3601205553; MO LC9824553; NC 581616-CSA BPN003018P6M, SP.FA/LV.32082; NJ P00951, NJ Burglar and Fire Alarm License 34BF00009100, 11 Penns Trail, Suite 400, Newtown, PA 18940 [(800) 776-8328], 189976; NV 20081367594, 0078423; NY 12000234104; OH 53 89 1300; OK 951; OR 61494; PA PA009679; RI 0608A; SC BAC 5191, FAC 3227; TN 00001438; TX B10340, ACR-1750945; UT 7437864-6501; VA 2705 026865, 11-1907; WA UBI 602 819 804; WI Sheboygan 1679; WV WV033013
© Copyright 2020, Guardian Protection, Inc.